---
Posted by James Tee
Hello everybody and welcome to another new column on WrestlingNews.net. This feature will give you, the readers, the chance to take a look at the legacy left by the soon-to-be 2013 class WWE Hall of Famers. We will attempt to do so by summarizing the most important matches, moments or periods in their respective careers. This week's edition will retrace the career of the Hardcore Legend, Mick Foley.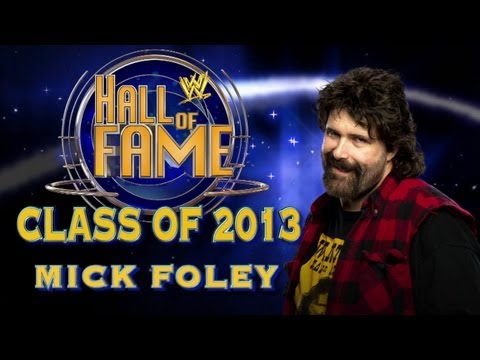 General Statistics (Limited to WWE, WCW, NWA, AWA, TNA & ECW)
– World Titles: 3x WWF Champion,  1x TNA World Heavyweight Champion
– Tag Titles: 1x WCW World Tag Team Champion, 2x ECW World Tag Team Champion, 8x WWF Tag Team Champion
– Other Titles: 1x WWF Hardcore Champion, 1x TNA Legends Champion
– Awards: PWI #19 best singles wrestler (1999), Frank Gotch Award* (2010)
* awarded to wrestlers who bring positive recognition to pro wrestling outside the ring. Mick Foley is a renowned author and is known for his charity work aimed at kids.
The 3 Faces of Mrs Foley's Baby Boy
You cannot call yourself a true fan of Mick Foley if you haven't seen all of his three successful gimmicks. In fact, one unique thing with Foley is that he could change his character almost whenever the storylines needed it, and with no fear of negative repercussions on crowd reactions (if not the opposite). It comes as no surprise then that his "faces" always keep the same core persona that the fans know so well.
Starting with the earliest gimmick, there is Cactus Jack, a determined hardcore brawler who knows no limit to pain and suffering. As Cactus Jack, Mick Foley showed his most violent side and came back under the gimmick for several Hardcore matches such as against Triple H in early 2000 and Randy Orton in 2004.
His second persona is the schizophrenic and sadistic Mankind. He adopted it for his WWF debut the night after WrestleMania XII and soon got engaged in a historic feud against The Undertaker. The rivalry was the source of many popular gimmick matches such as the Boiler Room Brawl and the Buried Alive match. A second run as Mankind would later form the tag team known as The Rock n Sock Connection.
Then comes the third gimmick known as Dude Love, a not-so-peaceful hippy who supposedly had more success with the ladies and was somewhat related to Foley's childhood. Dude Love's character was the least used among the three, but Foley still enjoyed some success with it.
The Hardcore Legend
In order to become the beloved icon that he is, Mick Foley built his early legacy around brutal, violent, dangerous fights commonly known as Hardcore Matches, Deathmatches, or Extreme Rules Matches. In those physical bouts, Foley was known for putting his body on the line like none other. His matches, often involving thumbtacks, barbwire and even nails, took violence to unreached levels in pro wrestling. Many, if not most of them, took place in Japan and somehow involved fellow legend Terry Funk. You can watch one of these Deathmatches here.
Still, his legacy as the Hardcore Legend did not come from the use of weapons alone. Actually, it was more because of his unique passion for pro wrestling and desire to give the fans their money's worth by sacrificing himself on countless occasions. A notable example is the story behind the loss of his right ear. As Cactus Jack was facing -ultra stiff- Vader in WCW back in 1994, he attempted to hang his head between the ropes. However, due to earlier complaints from a wrestler that made the ring crew tighten the ropes (which were actually elevator cables), his ear was torn and the referee had to grab it from the mat. Several months later, Foley would lose the possibility to reconstruct his lost ear after he decided to wrestle instead of undergoing surgery, as he was booked to win the WCW World Tag Team Championship. You can watch the match here.
A noteworthy fact, Mick Foley became somewhat infamous for his "anti-hardcore" attitude at one point. In fact, Foley turned heel during his ECW days when he became Tommy Dreamer's mentor in order to take him away from the rabid fans who only enjoy pure violence. This storyline generated tremendous heat among the die-hard ECW fans, especially when he started to commend WWF and WCW programming during his promos and, later on, when he signed with the WWF. The legitimate tension would turn into cheers following his farewell match at ECW, making it one of Foley's favorite moments of his career.
His Legendary Matches
The last thing one should expect from matches involving Mick Foley is pure technical wrestling. However, that is largely compensated by the amount of drama and physicality that generally surrounds his bouts. Below is a short selection of matches that can be considered as the highlights of his career.
Cactus Jack vs Sting – Falls Count Anywhere Match (WCW Beach Blast 1992)
1998 PWI Match of the Year – Mankind vs Undertaker – Hell in a Cell Match (WWF King of the Ring 1998)
Mankind vs The Rock – (WWF RAW 1/4/1999)
1999 PWI Match of the Year – Mankind vs The Rock – I Quit Match (WWF Royal Rumble 1999)
Cactus Jack vs Triple H – Hell in a Cell Match (WWF No Way Out 2000)
Mick Foley vs Edge – Hardcore Match (WrestleMania 22, 2006)
Mick Foley,Edge & Lita vs Tommy Dreamer, Terry Funk & Beulah – Extreme Rules Match (ECW One Night Stand 2006)
Mick Foley the Person
One cannot simply talk about Mick Foley's career without mentioning the great person that he is outside the ring. Foley makes donations, sponsors and participates in numerous charity events such as with the Make-a-Wish Foundation and ChildFund International. He has also made financial contributions for the education of children in several third world countries.
During the Attitude Era, his popularity among the fans was so high that he was robbed of his 1998 Time Person of the Year award when The Time launched its first online poll. In fact, the fans rushed to the website and made Foley lead the list with over 50% of the votes. The Time, claiming he did not make any significant achievement, decided to reward then president Bill Clinton and Ken Starr instead.
I could honestly go on for another four or five articles to properly pay tribute to this guy, but I have yet to cover the two other legends who have been announced; Bob Backlund and Trish Stratus. Allow me to conclude this entry by saying congratulations to Mick Foley, a great man who lives up to every aspect of the word Legend. Hats off! BANG BANG! Have a nice day!
Ilyass Garara, for WrestlingNews.net
Download - iPhone | Android | iPad